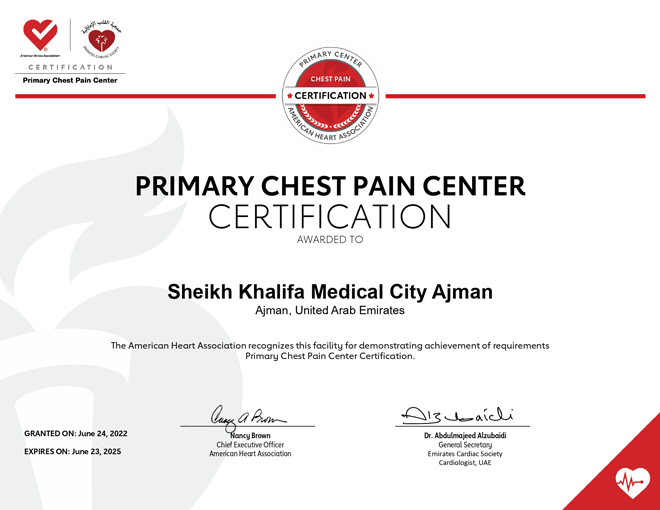 Sheikh Khalifa Medical City- Ajman is proud to announce that the hospital has been awarded the certification as a Primary Chest Pain Center by the American Heart Association. This certification program recognizes centers that have demonstrated expertise and commitment to quality patient care by meeting stringent criteria.
The American Heart Association, the world's leading voluntary health organization devoted to fighting cardiovascular disease, is devoted to saving people from heart disease and stroke – the two leading causes of death in the world.
The growing global and regional burden of cardiovascular disease and its associated disability indicates the importance of healthcare professionals commitment to continual improvement in STEMI treatment:

In 2019, approximately 18.6 million deaths were attributed to CVD globally. The age-adjusted death rate per 100,000 population was 239.8. The age-adjusted prevalence rate was 6431.6 per 100,000.
CVD prevalence was high in North Africa and the Middle East.

The timing for treating someone having a heart attack can mean the difference between life and death. To create a consistent system of care to help save lives, the American Heart Association's Chest Pain Center Certification Program recognizes hospitals that quickly and appropriately treat heart attack patients.
A hospital that receives Primary Chest Pain Center certification represents that it is prepared to accept patients that are experiencing the most severe type of heart attack (STEMI) and if necessary transfer them to a hospital that can provide specialized treatment. A hospital that provides this specialized treatment can receive Comprehensive Chest Pain Center certification.
The leadership team of SKMCA congratulates all SKMCA family members, both clinical and non-clinical for their outstanding efforts throughout the entire journey.
This important milestone of the SKMCA journey is a further confirmation of the dedication and professionalism in our continuous contribution to the quality of healthcare in the UAE particularly in service of the community of Ajman, and more broadly the Northern Emirates.